Great Timoore "First" furniture collection for newborn, babies and their parents
Being a parent of a newborn is not easy. Not only because of the complete change of life routine and the physical and emotional exhaustion. But also because of information chaos aroused by all friends and relations + books and magazines + tv progs + everything in the NET. Everyone wants to help, everyone gives advices (very often contradictory), everyone knows best. And you get:
a) frustrated
b) lost
c) angry
more then at the beginning. What could help? The common sense, self confidence and keeping distance. And realization that apart form the baby, the parents needs and comfort are very important as well ... and it is worth to take care of them.
Today I would like to write some words about Timoore "First" collection as it offers great furniture solutions not only for newborn and babies to whom it is addressed, but also for their PARENTS.
The set of coherent functional furniture reflecting baby's natural development stages is the result of analyzes of the information based on observations and discussions with parents. Furniture from "First" collection may accompany baby from his/her first moments – starting with Add-on crib, through the Cot "First", to the comfortable bed. Apart from standard child's room furniture such as chest with changing table top or a two-door wardrobe, there are more universal furniture either. They fit perfectly to the kid's room, to the bedroom or even to the living room. The collection includes also comfortable beds for adults in two sizes and a desk.

My favourites from this collection are:
Cot bed "First" (for mattress 140x70cm). Due to the special construction the cot can be transformed in a simple way into a bed to provide a comfortable place to sleep even for a 9-10 years old child. If you intend to replace your child's bed earlier, you can choose a classic Cot "Goo" (for mattress 120x60cm).
Add-on crib – as a set with parents' Bed and Beside shelves is a very practical solution especially at the beginning of breast feeding (when the baby eats few times per night). It offers calm sleeping to the mum and to the baby by providing the baby his/her own safe area while remaining close to the mum.
Desk "First" is an example of function and aesthetic combination. Equipped with a special lifted top (under which you can place your laptop), easy to reach stationery case and (in extra option) voluminous container. Would be a perfect multifunctional home office (for a mum who wants to work and bring up baby).
"First" collection is based on the finest quality materials,manufactured with high regard to environment protection issues. It is a proposal for the ones who value naturalness and ecology in their surrounding. Similarly to other "Timoore" furniture, also in the "First" collection, the great importance is put on safety. All corners, which may cause potential danger, are rounded, additionally, oils and vanishes used in manufacturing process are neutral to child's health. Gentle, harmonious and limited colour combination has a smooth effect on child's behaviour. Original handles are made of natural wood, which aesthetically defines the whole "First" collection.

As you can see the collection is very well thought out and the furniture may not only decorate your house but also make your life easier and more comfortable.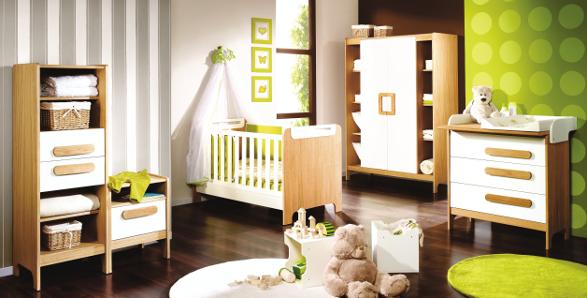 Nursery room with "First" collection elements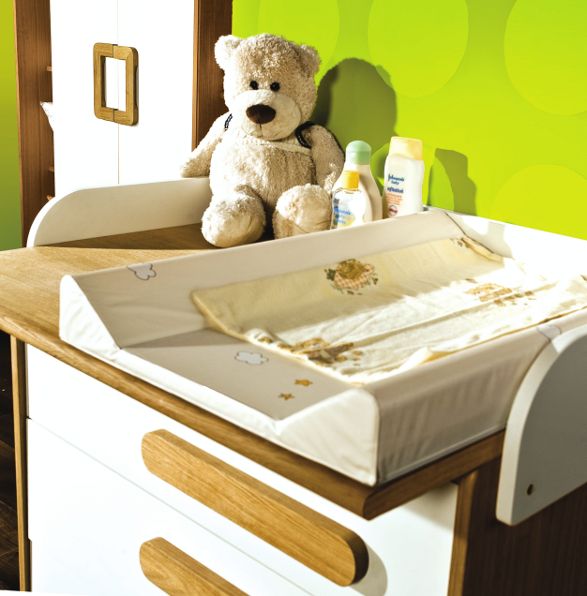 Three-drawer chest with changing table top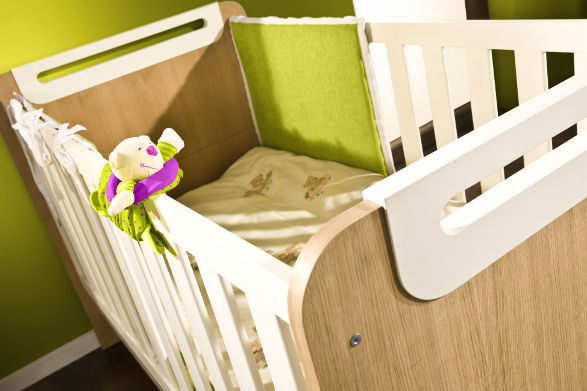 Cot bed "First" (cot version)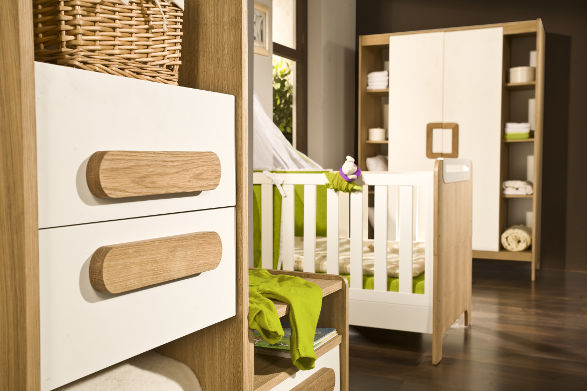 Two-door wardrobe with shelves, Cot bed 'First", Shelving unit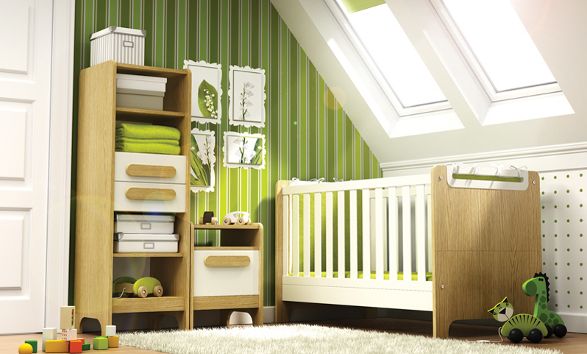 Shelving unit, Beside table and Cot bed "First"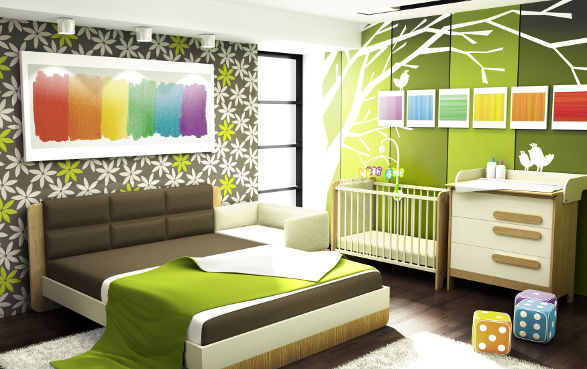 Bed with Add-on crib, Nursery crib "Goo" and Three-drawer chest with changing table top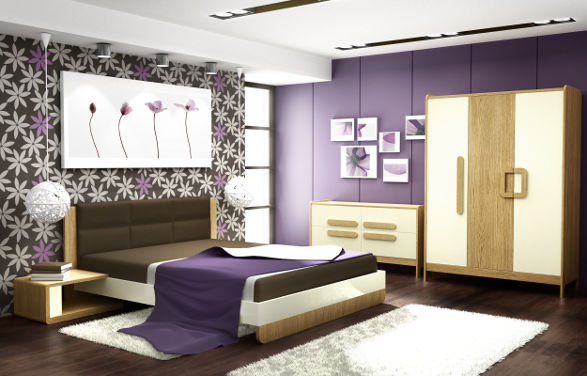 Bedroom. Bed with beside shelf, Four-drawer chest and Three-door wardrobe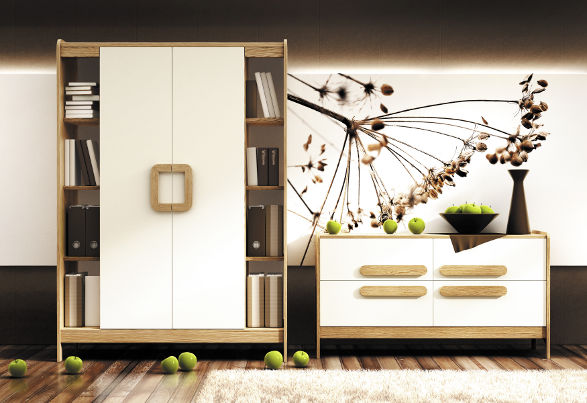 Living-room. Two-door wardrobe with shelves and Four-drawer chest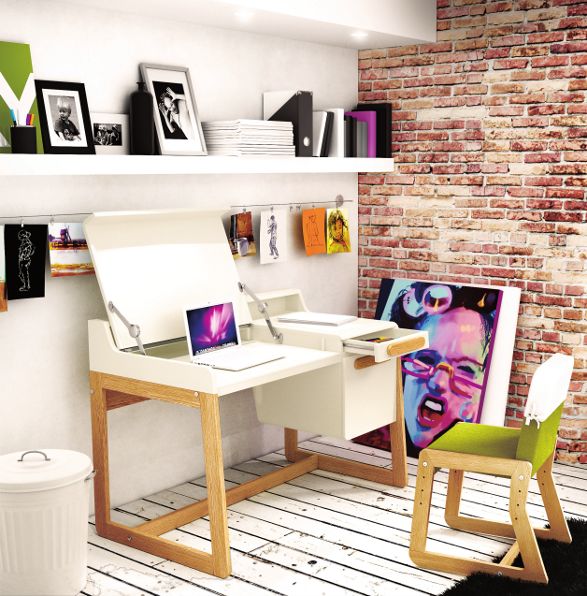 Home office. Desk "First" and UpME chair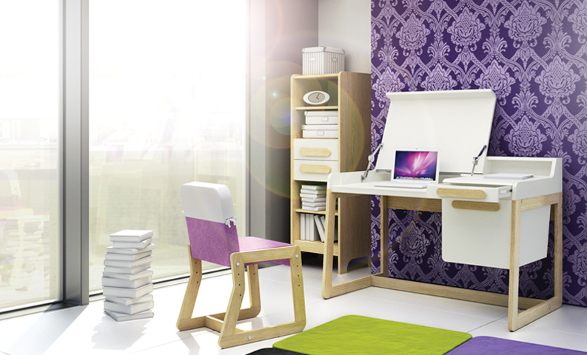 Home office. Desk "First", Shelving unit and UpME chair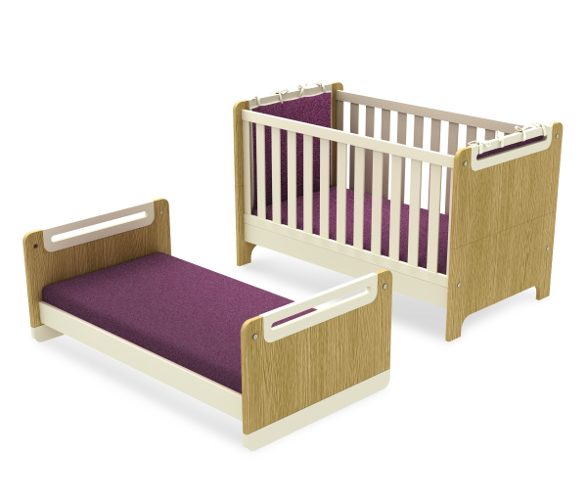 Cot bed "First" in both versions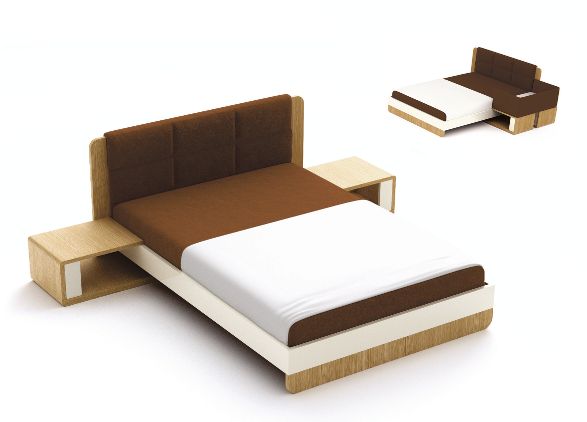 Two versions of Bed with Beside shelves and Add-on crib
Photo credits to Timoore