Eco friendly alternatives for XMas Trees
There are two major acts of violence against nature involved in Christmas tradition. Selling living carps, which are one of the most important dish during Christmas Eve and cutting hundreds of thousands firs and pines for Christmas Trees. Most ironic is that Christmas Tree is a symbol of reborn, living and fertility, while - after decorating our houses for few days - it is mostly thrown out in the garbage. Although many people don't bother that, maybe it is a good time to start "a new secular tradition". It doesn't cost much yet it makes difference.
What are the alternatives?
First – not to buy a living carp. Bought dead one would taste the same and you wouldn't have to practice killing a being right before you celebrate Jesus birthday with your family. (Personality, I truly believe that most people don't like killing).
Secound – use an artificial plastic Christmas tree (which would decompose thousands of years) or one of the recyclable one.
The choice of recyclable Christmas trees is really impressive. Made of wood, plywood, cardboard, bottles (most often beer bottles). What's more, many of them really resemble Christmas tree. Some don't, but they look nice anyway. Here are those I found most original and still in Christmas spirit.
Tannenboing modern, sustainable Christmas tree. Cool, brushed metal enhances the sophisticated and contemporary design. Elegant curves lend softness and grace to the strength and durability of the hand-finished aluminum.
The clean, elegant tannenboing is suspended by a professional rigging system. it can spring to over six feet tall and hold over 200 items. At the end of the season, tannenboing can be returned to the original box and flat-packed until next year.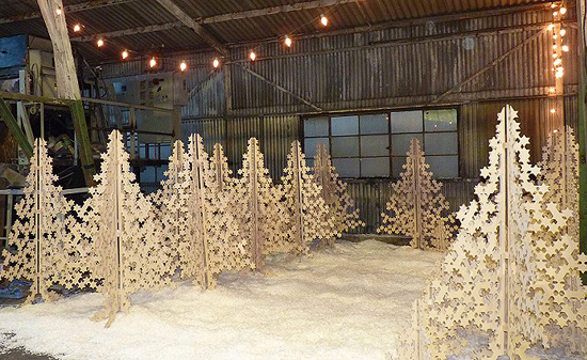 The Superstar Tree is easy to set-up, makes a great centerpiece for any home and can be used year-after-year. The Superstar tree is versatile; it can be appreciated straight out-of-the-box, with it's pure lines and the wood grain's simplicity, or one can customize the tree with paint, glitter, yarn... whatever you choose. Whatever the choice, the tree will maintain a simple and sophisticated appeal.
Designed by Modernica Studio in 2009, the Superstar tree is made of lightweight, unstained, Baltic birch plywood and is available in two sizes. The handcrafted tree is designed to dis-assemble and lay flat for easy storage.
Christmas Tree by matteria is a folding, stylish eco-certified birch tree. Can be easily stored flat and reused. The wood veneer originates from Finland, PEFC certified forests. Designer Anne Paso uses non-toxic toy paint and the color is applied by hand as to ensure less waste. As an added bonus the manufacturer will plant 5 new trees for every Large Christmas Tree sold.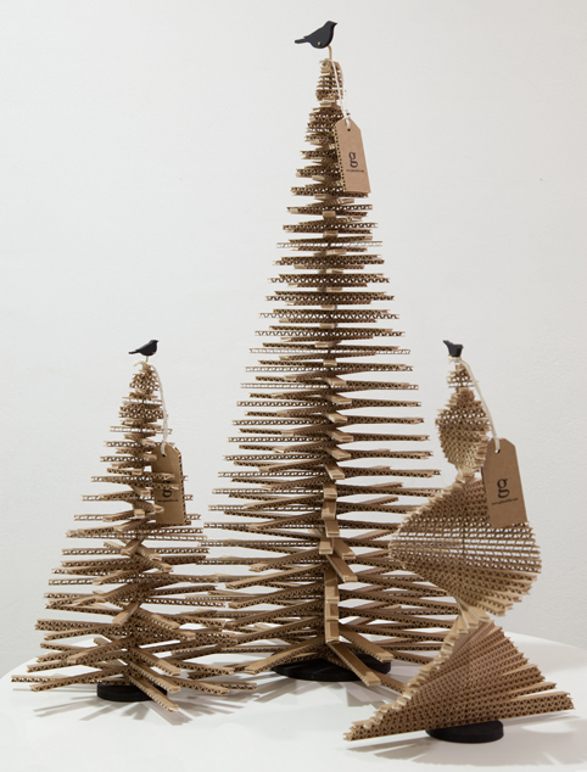 Easy in use Giles Miller Christmas Tree by Design Musem. Just attach the wooden base and bird and slide the cardboard segments around the central shaft to style as you desire.
African Tree by Tin Town is an object that can add character to your spaces all year round. The complexity and individuality of each branch and the iconic representations of African wildlife define its character.
Made of laser-cut 1mm mild steel, the tree consists of two parts that slot together to form a stable whole, and which can be disassembled quickly for storage or cleaning.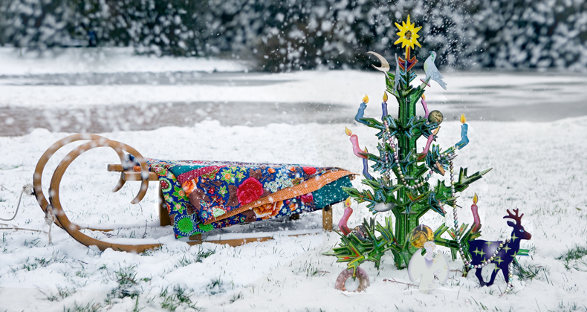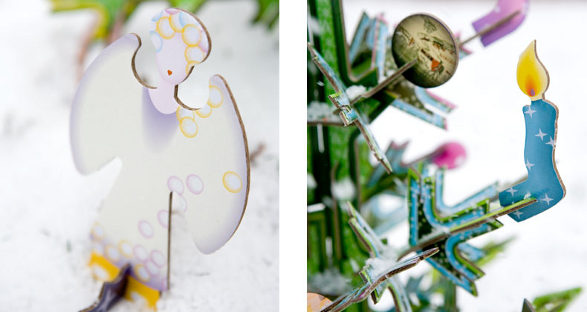 Totem XMas Tree by Kidsonroof is not just a tree but a set of foldable tree and decorations made of recycled cardboard to combine with or replace the one from the tree farm. Includes an angel, a deer, peace doves, candles and decorations, and is topped with a star. It is a great fun for the whole family to set up together The Xmas Tree. Once the New Year has come, you can put all the pieces back in the box to rebuild a year later or invent an un-Xmas tree.
Alpine Tree by Cardboard Safari is laser-cut for precision fit and easy assembly using slotted construction. They look great in their native brown or white and can be decorated with paint, glitter or other craft materials. This unique radial design can be assembled as either a full 360 degree tree or a more compact, wall hugging, 180 degree configuration. Each tree is made from recycled cardboard, a non-toxic, environmentally friendly product.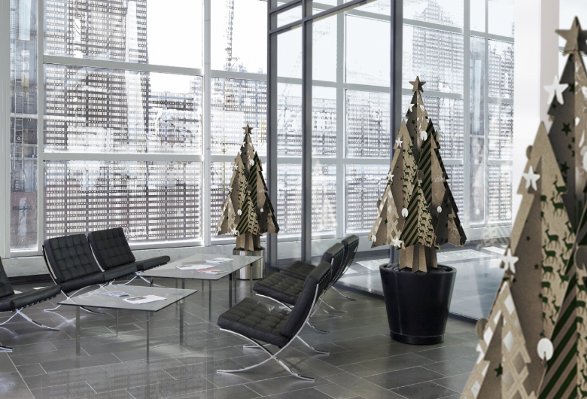 Cascades' 100% recycled cardboard Christmas tree, with its elegant design and its thousand-and-one decorating opportunities, is available in four models.
PossibiliTree® wooden trees are made in the United States and produced as a family venture. They are beautiful and unusual art pieces that function as natural alternatives to a live or artificial Christmas tree. Each PossibiliTree® wooden tree is made by skilled woodworkers and carefully assembled. Every tree is distinct with its own color and grain pattern variations.
The 6ft suspended PossibiliTree, with 10 rows of branches, beautifully shows off ornaments. Floating 18 inches above the floor, there is plenty of room underneath to place gifts. Comes pre-strung and rolled in a bundle.
You may also consider 2D Xmas Trees such as those below.
Christmas Tree Wall Sticker by Giggle Smile Design
Christmas Tree Wall Decal by Room Mates Peel and Stick
Christmas Tree with Stars Wall Decal by Easy Decals
Thoroughly modern Christmas tree set by I need nice things including a star as well